I'll never forget the first time I met Liudas Kanapienis – Ondato's CEO. It was May 2019, during the infoShare Startup Contest Semifinals. Pitch was short and clear, and Liudas was a person that inspired confidence. Moreover, Ondato was generating revenues, which was not usual for startups in the competition. Just after his pitch, I sent a message to him on LinkedIn that you can see below.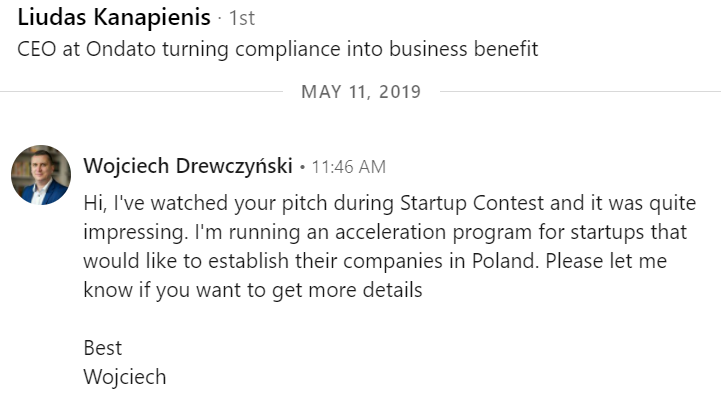 Seven months later, Liudas was a proud alumnus of Space3ac accelerator with a special award and extra funding for one of the best performing startups and the Polish chapter of his Lithuanian company. Just a couple of days ago, he raised $2M round with OTB Ventures. This week, I had an opportunity to do a short interview with Liudas and discuss his successful business growth recipe. 
WD: An idea for a startup from the fintech industry. Where did it come from?
LK: I come from the financial environment and have seen different online fintech solutions over the years. I also saw how imperfect and entirely not adapted to the real needs they were. It was the driver to establish Ondato – a startup that provides remote customer identification and KYC services, combining security and compliance into one platform. I just needed to run this company to fulfill a gap in the market. From the early beginning, our mission was to turn compliance into a business benefit, which convinced many enterprises to give us a chance. 
You made enormous progress last year. What have you achieved in 2020, and how did you manage its growth in such business conditions?
We both can agree that it's been a crazy weird year. The way of running a business has changed significantly all around the world. We didn't expect such a situation. Day by day the number of our customers has risen. Our team grew from a dozen to over 60 people. For a CEO is a condition that you must handle. Hard lockdown in Lithuania, with severe restrictions, switched our work to a remote. We had operations in several countries, so I had many things to manage. Restrictions in traveling, conferences, and meetups gave me extra time to focus on its processes, procedures, and of course, culture development and business priorities. It's funny when you realize how much time you can save avoiding unnecessary meetings.  
Did you see any changes in cooperation with vast enterprises last year?
Of course. We were able to onboard clients much faster than before COVID-19. Something that took much time was a matter of a couple of days. The financial market was in a strong need for KYC solutions, and we were just at the right time and place. We were able to work with a couple of massive customers almost the same time, e.g., in Poland, we onboard three big insurance companies responsible for over 50% of the local market. We just realized our mission and turned compliance into a business benefit. And that worked perfectly. 
You participated in two startup accelerators: Poland Prize powered by Space3ac and Startup Wiseguys. What piece of advice can you give any business founder that is interested in such programs?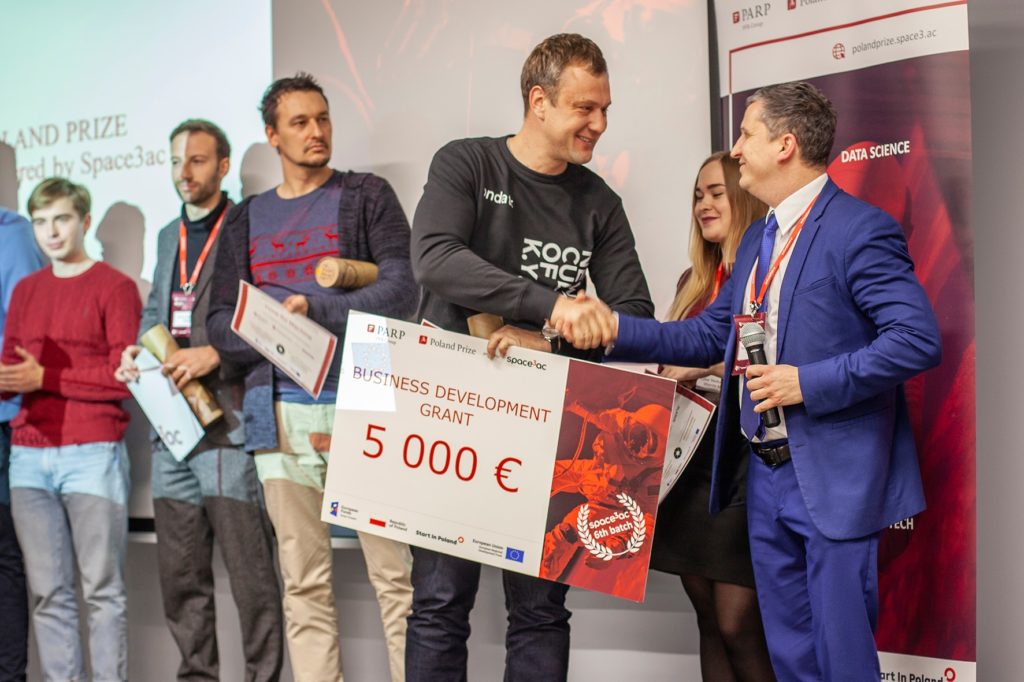 It would help if you took advantage of all the business opportunities that arise because you never know how much benefit you will get from them. I think it is worth taking the chance when it can help you grow. A perfect example is an acceleration program for startups, which is a source of new valuable contacts.  You can also gain a different perspective and reorganize certain things when it comes to business development. In a short time, you get feedback from many people who have a lot of experience and knowledge to help you. I participated in person in Poland Prize chapter of Space3ac and the Startup Wiseguys. It's always not easy to move to another country when you have a family and kids you're raising. It's essential to use acceleration time right.  I don't regret the time spent in accelerators because I can see how much his startup has gained from it—especially when I look at it from today's perspective. And I would give the advice to any founder just take the opportunity the life gives as you might miss something very valuable. 
What are your plans for 2021?
We're just after raising post-seed funding from OTB Ventures, so we can focus on scaling up the business. It will be a year of work on processes, improvements, team development, and expansion to other countries. 
For sure you can handle that, and I think that you'll move from one success to another 🙂
You're right, but please don't forget to keep your fingers crossed for Ondato!
Summary of Liudas Kanapienis business development tips:
Turn your mission into a business benefit for your customers
Avoid unnecessary meetings & conferences
Take advantage of all business opportunities that arise
Be prepared to onboard your customers faster and faster 
Below you can check Liudas pitch from infoShare Startup Contest 2019!
Receive emails that make reading tips & news about business development really productive